Can. You. Dig it!
surf
skate
snow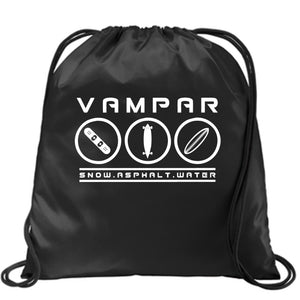 Free Cinch Pack.
With orders of $60.00 or more.
Lightweight and easy to wear over your shoulder thanks to adjustable-length drawcord straps.
Drawcord closures 
Dimensions: 16.5"h x 14.5"w
Our History
Vampar Clothing Co was founded in 2014. We are a life style company specializing in the So Cal Surf, Skate and Snow scene. Based out of San Diego, we make almost everything in house or source out locally when possible. The goal is to create quality gear with that retro flair.
Our Style
Old school attitude in the 21st century. Can. You. Dig It!
Contact Us
Questions, issues, wholesale info? E-mail us at vampar77@gmail.com anytime and we will get back to you as soon as possible.